Green Cap
Baseball Cap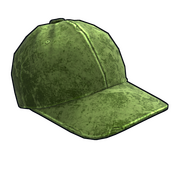 skin Information
---
A hat with a protrusion on the front which under the right conditions prevents the sun from entering the wearer's eye.
This is a skin for the
Baseball Cap
item. You will be able to apply this skin at a repair bench or when you craft the item in game.
Breaks down into
1 x Cloth